Agritourism & sustainable efforts
The Lodge at Moss Neck was designed to support sustainable agriculture and promote a profound understanding of today's farming practices through a hands-on learning experience. Our farm uses sustainable and innovative farming exercises that incorporate science and technology in our day-to-day operation. 
Locally sourced
The Lodge was built using materials that were locally sourced wherever possible. This includes the cedar wood walls, columns, and ceilings, black walnut wood flooring, and cherry wood borders, all of which were sourced directly from the trees on the farm. Local Virginia craftsmen custom built and installed most of the exterior and interior finishes and furnishings throughout the property. Bourbon barrel ends in the sports lounge and rain barrels in the courtyard are from a local award-winning distillery. Even our sheep and cattle were purchased from local Virginia breeders.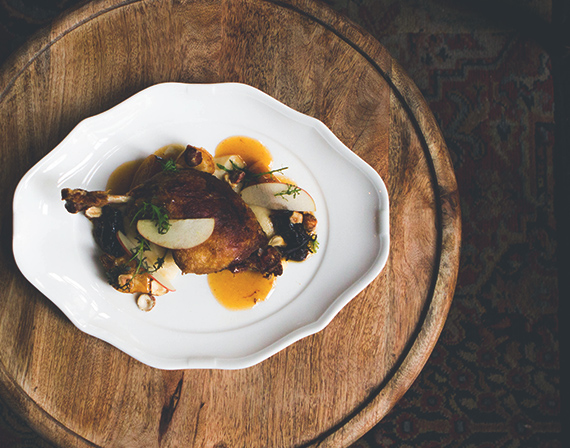 Farm to Table
Dine on farm-to-table meals prepared with the freshest ingredients grown on-site and learn where the food comes from, and how we plant, grow and harvest it. Discover how sustainable agriculture enables us to produce healthful food without compromising future generations' ability to do the same. Our modern farming production includes a hydroponic operation for fruit and vegetables including tomatoes, lettuce, squash, blackberries, watermelon, cucumber, okra, kale, and Swiss chard.
Innovative Farming
Our modern farming production of food, plant, and animal products uses farming techniques that protect the environment, public health, human communities, and animal welfare. This includes a hydroponic operation to grow fresh fruits, vegetables, herbs, and flowers. We provide state-of-the-art hives for bee colonies, and we always leave plenty of honey for the bees before harvesting any for our guests. Herbs from the greenhouse are made into herbal infused oils for cooking and for use in the spa. Canning is used for jams, jellies, relishes, beans, and sauces to preserve food from the farm. And our farm animals enjoy 1,200 acres of sprawling pastures to play, graze, and roam freely.